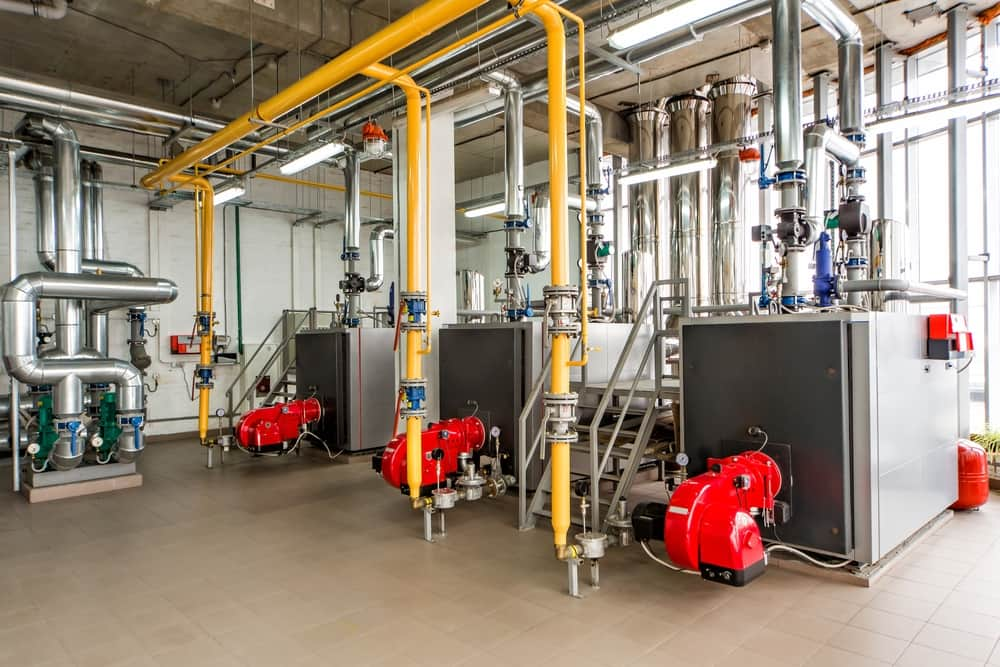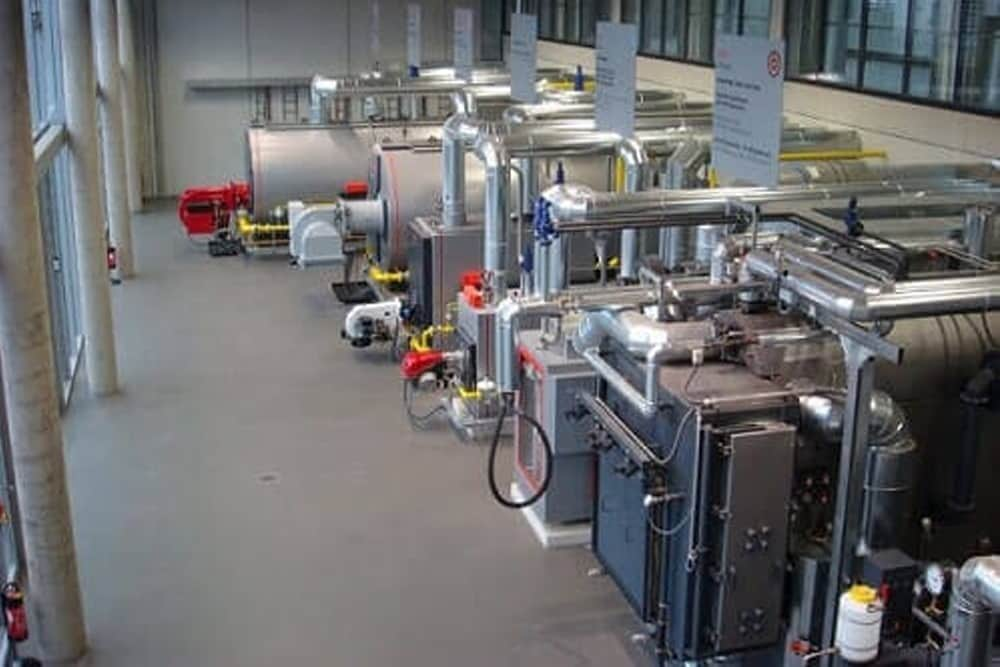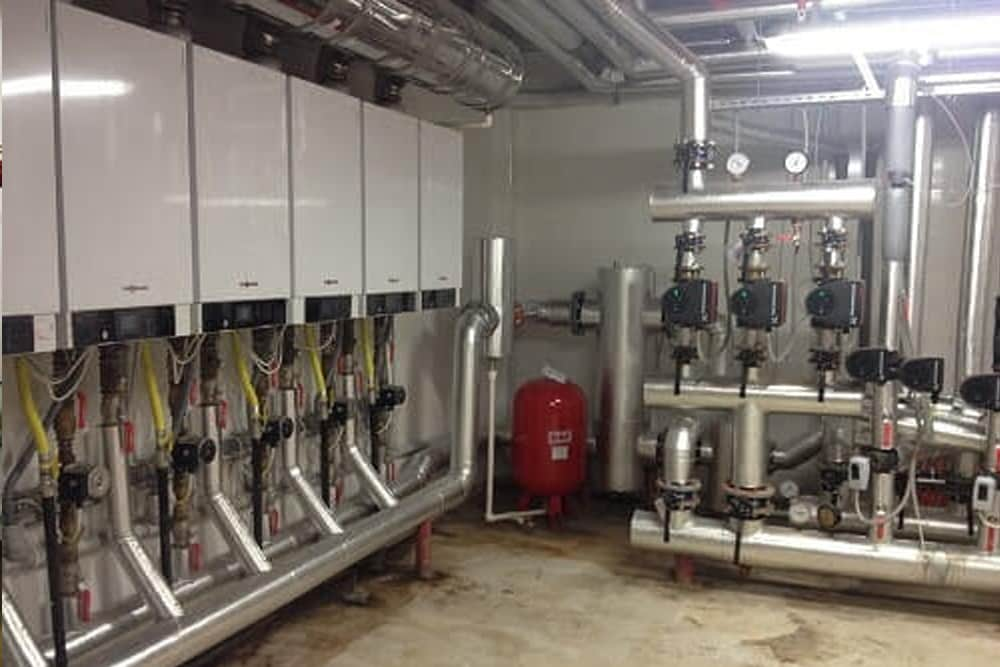 Water heaters As the name suggests, water heaters are boilers that use water as a heat transfer medium . Boilers in this heating system have a very high heat capacity. Water heaters can be used in apartments, private houses, industrial facilities, offices, greenhouses, warehouses and sports complexes.

Water heaters, in turn, are used in steam systems for heating equipment, as well as in the production of steam fabrics, food products, and pharmaceuticals. That is why steam boilers are used in all industries and some non-manufacturing industries (medicine, cosmetology). Steam boilers are the most reliable and economical type of boilers. Solid fuel boilers are convenient and safe to use. It is designed for industrial and residential buildings. The main difference from other types of boilers is the use of coke, coal, wood and lignite as fuel. In addition, manufacturers produce boilers that run on all types of fuel, except for one.
Gas boilers There
are two types of gas boilers - wall and floor. Gas wall-mounted boilers are considered a compact and convenient type of boiler. These boilers not only heat apartments and small private houses, but also provide hot water. Wall-mounted boilers are powered by a pump or pump. It behaves like a real mini boiler. The structure of wall-mounted boilers, as mentioned above, includes a regenerator, a burner, a control unit, a pressure gauge, an expansion tank, a thermometer and a circulation (exchange) pump. Wall-mounted boilers have a special system that ensures efficient and high-quality operation of both the boiler itself and its parts.
Gas floor boilers are widely used in many countries due to their practicality, invisibility of the system and natural circulation. Modern floor-standing boilers are equipped with a simple and reliable automation system that automatically turns off the boiler, switching to emergency mode if there are problems with the gas supply or chimney.
Oil-fired boilers
Oil-fired boilers are mainly used in large facilities located far from the gas pipeline. The principle of operation of oil-fired boilers is the same as that of gas fuel. When choosing between electric or diesel models, we see that diesel models are more economical. Each oil-fired boiler is equipped with an open combustion chamber.
Cast iron radiators
Cast iron radiators were the most famous radiators. These radiators have been the main equipment of public buildings since Soviet times and are still used in many "Khrushchev" and other apartments and private houses. This shows their endurance.
Aluminum radiators
Aluminum radiators are the most widely used radiators for individual heating systems. It has the following advantages;
cheap enough
High thermal conductivity (fast heating and heat dissipation)
Standard installation conditions
Panel radiators
Panel radiators are made of steel. The variety and configuration of panel radiators allows you to choose a model suitable for any type of room. These radiators differ from others in that the heat is evenly distributed throughout the equipment and improves heat dissipation. The thermal conductivity of panel radiators is higher than that of aluminum.
Burners are devices that burn fuel to generate the required amount of heat. The burners operate with high efficiency and minimize the release of harmful substances into the environment. The burners are equipment with automatic control and safety control. In the event of an irreversible failure, the equipment will automatically shut down. According to the type of fuel used, burners are divided into 3 types: gas, liquid (diesel), multi-fuel (gas-diesel).
Gas burners
Gas burners provide the necessary heat distribution through economical and efficient combustion of gaseous fuels. This type of burner has a capacity of 16 to 246 kW. Almost all gas burners are equipped with an automatic system that allows them to operate in a safety mode. These devices are single-stage and two-stage in power. Single-stage fireplaces are most often used in boiler rooms of private houses. Burners of medium and high power are available in single stage, two stage and modular. Two-stage operate in two combustion modes; "less" and "more".When operating in modulating mode, a power flow mode is provided, which saves fuel and reduces noise when starting equipment. The power setting of the equipment is carried out automatically. This equipment operates on 220 V. The electrical frequency must be 50 GHz.
Diesel burners Diesel burners
provide efficient and environmentally friendly combustion of diesel fuel and heat removal. Where gas pipelines are not available, diesel fuel is used as an alternative. All diesel burners are equipped with an automatic system for the safe operation of the equipment. This equipment is divided into types with and without fuel heating mode. Non-heating burners are distinguished by their simple design and low cost. Heaters with heating modes are characterized by efficient operation and optimal combustion of fuel. Oil burners are available in single stage, two stage and three stage and have power flow control.They are divided into weak, medium and high strength. As a rule, this equipment is powered by 220 V. The electrical frequency must be 50 GHz.
Multi-fuel (gas- diesel)
burners Multi - fuel (gas-diesel) burners are similar in their main characteristics to other types of burners and differ from them in the possibility of switching from one type of fuel to another, to ensure perfect operation. heating and technological equipment.
With the unique Combi heating system, you can easily heat any room, even in the coldest times. To do this, you need to correctly install all the elements of the system. The work does not end with the purchase and installation of equipment with heating elements. It is necessary to create a vicious circle system by pre-conducting plumbing from every room of the house. It should be noted that the boiler is more suitable for apartments and one-story houses. Because this equipment cannot lift water to the 2nd floor with a pipe. Plastic pipes are now used more than combined systems. They are easily cut to the desired size and connected using a special device.The advantages of the system include its durability, ease of use and the ability to adjust the temperature. If the owner is not at home for a long time, there is no need to pay for the heater in vain. To do this, simply turn off the boiler. Elements of the combined heating system; heating equipment, gas and water pipes and radiators.
Boiler room - a system of devices designed to convert water into saturated steam by heating water or steam heated to a temperature above the boiling point of water, thereby heating apartments and other premises. Chemical energy is converted into thermal energy in boilers. In this case, water in special boilers is heated by this energy and turns into the necessary steam. The steam is then transferred to certain objects through water pipes. The steam moving in the pipes separates a certain amount of heat from itself and turns back into water and returns to the boiler. In large and spacious buildings, it is more convenient to install an independent boiler room. The boiler room is the brain of the heating system. Includes boiler and other equipment.Therefore, the boiler room must be designed taking into account the needs of the building.
In order for the boiler room in the building to be economical, it must have the following characteristics:
This should be clear.
Sufficient ventilation must be provided.
It should be next to the chimney.
It must be able to store a sufficient amount of fuel in suitable conditions.
There must be enough space for the boiler and other equipment.
It must be freely accessible both inside and outside the building.
ISTEK has many years of experience in the installation of boiler systems.